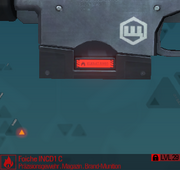 Pre-Parity Information
Edit
The following is no longer up to date with the current version of Blacklight: Retribution and should only be used for historical information.
The Foiche INCD1 C is the incendiary version of the Combat Rifle Mags. This Ammunition for the Combat Rifle unlocks at level 29. It is also included in the Reward Pack for that level as a 3 day trial version.
Incendiary Ammunition does 110% total damage. 70% are dealt immediately, and a further 40% in the next seconds.
1 Day: 200 GP / 35 ZEN
7 Days: 1200 GP / 200 ZEN
30 Days: 850 ZEN
Community content is available under
CC-BY-SA
unless otherwise noted.