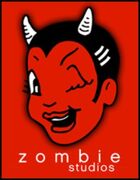 Zombie Studios was an American independent video game developer of console, PC, mobile and web-based games. It was formed in 1994 by Joanna Alexander and Mark Long, formerly of the Sarnoff Research Center. Alexander and Long founded Zombie after they completed the design of a virtual reality game console for Hasbro at Sarnoff in 1993. Since then, Zombie has designed and produced over 30 original games for worldwide distribution on virtually every major platform - from SEGA 32X to 64bit PCs. Zombie created a value label in 2005 - Direct Action Games - to design and produce value titles for both PC and consoles.
After the completion of Blacklight: Tango Down which was published by Ignition Entertainment, Zombie has most recently published the free-to-play sequel Blacklight: Retribution which is published by Perfect World and also distributed through Steam.
After more than 20 years in operation, Zombie Studios shut down in January 2015 with its owner's retirement. The rights for Blacklight Retribution was acquired by the Ex-Developers Andy Kipling and Russell Nelson, whom formed a new Studio with the name Builder Box later renamed to Hardsuit Labs.
http://www.playblacklight.com/
Community content is available under
CC-BY-SA
unless otherwise noted.